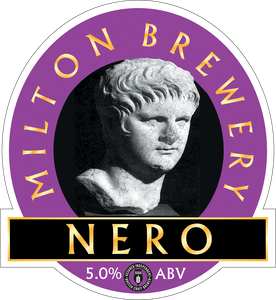 5.0% ABV
A satisfying, full-flavoured black brew with a good balance of malt, roast and fruit. Bittersweet flavours carry through to a dry finish.
Nero is an unfined beer and is therefore suitable for vegans.
Polypin: £79
Nero is a Trademark registered by The Milton Brewery, Cambridge Ltd.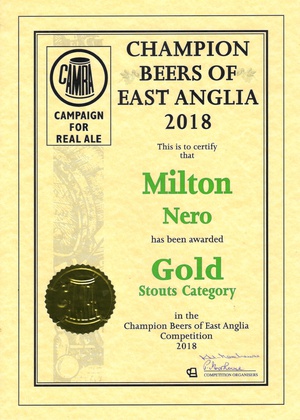 Part of the Imperator range of beers.
2022 SIBA Stouts

2023 SIBA East Region Dark Beers >4.4%

2019 CAMRA Champion Beer of East Anglia (Stouts)

2018 CAMRA East Champion Stout

2019 SIBA East Region Stout

2014 CAMRA Beer of the Year

2012 Champion Beer of East Anglia (Stout Category)

2012 CAMRA Champion Beer of East Anglia Overall Champion

2011 Champion Beer of the Festival, Keighley

2011 CAMRA Beer of the Year

2011 CAMRA Champion Beer of Britian, Stout Category

2009 Champion Beer of East Anglia, Champion Stout

2009 Champion Beer of East Anglia

2007 Champion Beer of the Festival, Ely

2006 Colchester Champion Strong Beer

2001 Cambridge Corn Exchange Festival Supreme Champion