Founded in June 1999, in Milton, a village on the outskirts of Cambridge. In July 2012, Milton Brewery moved premises to the neighbouring village of Waterbeach, securing the future of the brewery, providing much needed expansion and allowing for further growth.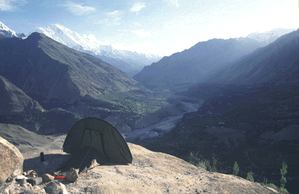 The genesis of the Milton Brewery occurred high in the Karakorum Mountains of Northern Pakistan when Tony Brooks and Richard Naisby met. Tony was cycling across Asia raising money for charity. Richard was writing a travel book. By the time they left the Islamic Republic of Pakistan beer was becoming an issue.
Two years later...
...in an Iranian restaurant in West London over kebabs, Tony, Richard and Mike Morley pondered where to place their new brewery idea.
March to June was spent finding a suitable site in the Cambridge area. One day we came across a glorious 1950s industrial unit and knew we had a home.
Building the brewery took two months and before we could ever brew we had to learn to become passable bricklayers, plumbers, electricians, painters and carpenters. Only then could we start brewing.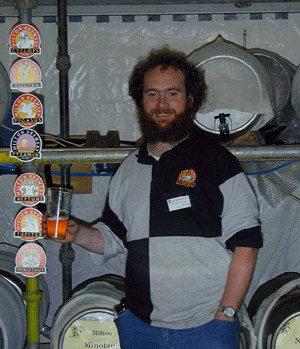 The first beer, Pegasus, was launched on the 9th September 1999. The "classical" range of beers, with red pumpclips soon followed. The beers were an immediate hit — winning awards at beer festivals near and far. Pegasus in particular established itself as a beer worth searching for. By the time of the 2000 Cambridge Beer Festival it was time to launch the first of a new series of beers. Named after the Seven Wonders of the World, they too have proved very popular — winning a string of accolades and awards.
Tony left the brewery in October 2000 to pursue a career in expedition management. Clive Fussell joined the board and Tim Cowper started work in the brewery in February 2001, just in time for our biggest coup yet — winning the Cambridge Evening News Business Excellence Awards.
In March 2001 Minotaur won the SIBA Champion Mild of East Anglia award. Milton Brewery was again successful at the 2001 Cambridge Beer Festival.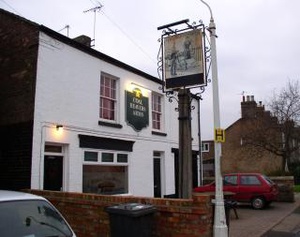 In late 2001 a new company, Individual Pubs Limited was established to run pubs serving Milton beers. The first of these, the Coalheavers Arms in Peterborough, was acquired in June and opened in August 2002. Meanwhile, back at the ranch (in June 2002), Strawberry Fair served Milton beers to an estimated 70000 people.
The St. Radegund Pub on King Street, Cambridge began to stock Milton Brewery beers in Summer 2002.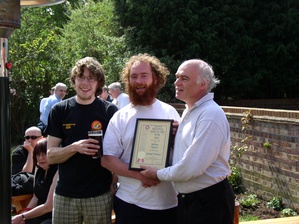 Pegasus won CAMRA Champion Beer of East Anglia 2002 at the Bedford beer festival, and now goes forward as a finalist in the Champion Beer of Britain competition.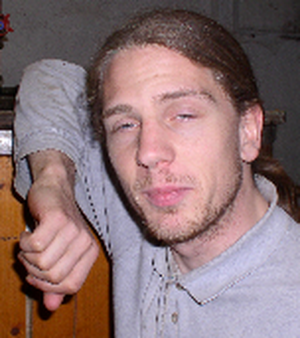 Guillaume "Gollum" Mathieu joined the brewery in late 2002 and was with us for 2 and bit years (he returns to terrify us from time to time!).
June 2003 saw the opening of our second pub; the Oakdale Arms in Harringay, North London. It proved an immediate hit in an area poorly served by real ale. In November 2003 the Oakdale was awarded the North London Campaign for Real Ale Pub of the Season award.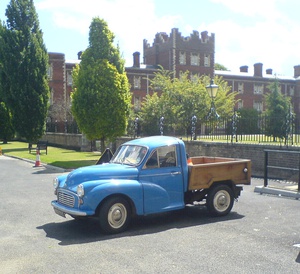 The brewery gained another delivery vehicle!
In 2005 the Oakdale was given North London CAMRA's Pub of the Year award. Mammon was named as one of CAMRA's Beers of the Year.
Mammon won at the Rotherham Oakwood Beer Festival and was thus entered for the Champion Winter Beer of Britain. It didn't win but was named as one of CAMRA's Beers of the Year for 2006.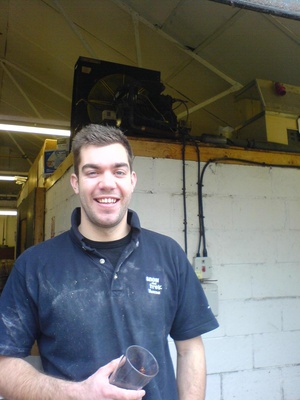 Will Tatchell joined us in October 2005 and his Australian origin proved the inspiration for a couple of new beers — Dreamtime and Uluru.
In January 2006 our third pub, the Pembury Tavern, opened in Hackney. The sixteen handpumps feature an ever-changing range of Milton and other real ales.
In March 2006 we celebrated the 500th brew (or gyle) with Daedalus, a special brewed for the occasion.
In summer 2006 we created the Pegasus Cup for the most successful college boat club in the Cambridge May Bumps.
We're on the Beeriodic Table with Neptune...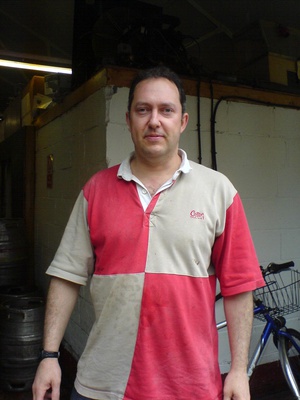 Paul Crush also known as Crushy, joined us in May 2006. Crushy is known for his sartorial elegance, fashion sense and all-round decorum. It is somewhat surprising to find him looking like an extra from the Revenge of the Gimp. Check here for more horrific clothing misadventures.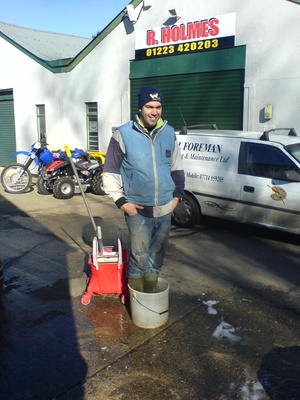 Will also left us in May 2006. He'd been acting oddly for some time before he was transported to Australia... an undue fondness for things green and gold, Vegemite dreams and a strong aversion to the word ASHES!! Every time he expressed these perversions we made him stand in a bucket until the feelings went away again... but in the end it became too much for him! We'll miss him. (and let's hope his arrival down under means that when we go down there to retain the Ashes (again and again) at least the beer will be better in future!)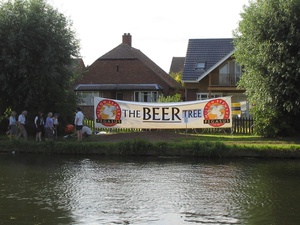 The Beer Tree, a magic tree on the banks of the River Cam that flowers once a year with a crop of beer during the Cambridge Town Bumping Races, has been enthusiasically recieved since 2001. Parched rowers slake their thirst and we collect money for charity. As of 2011 we have raised over £22,000 for deserving causes. The Beer Tree will flower again in 2012 and if you want to help support us please contact the brewery.
We've been delivering beer in devious ways again...
Once upon a time it wasn't an uncommon sight to see Richard cycling around Cambridge with a cask of beer on his back. After a while, his bike — and his back — started to complain and cycle deliveries ceased. Until now. Thanks to the good (and mad) people at http://www.outspokendelivery.co.uk/ we're at it again. First up was a leisurely trundle across the Milton Cycle Bridge and down the banks of the Cam to Jesus College. The specially adapted bikes can carry firkins with ease (though kilderkins are out of the question for the moment). Now who lives at the top of a big hill and wants to buy some beer???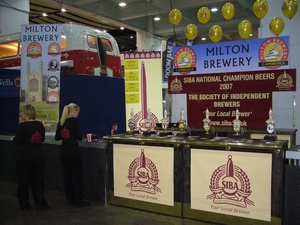 In January 2007, Mammon won the SIBA East Region Speciality Beer Gold award, and went forward to the national finals, where it won the Silver award; this meant that Mammon featured heavily at the 2007 Great British Beer Festival. At the Cambridge Winter Ale festival, Marcus Aurelius was overall Champion Beer.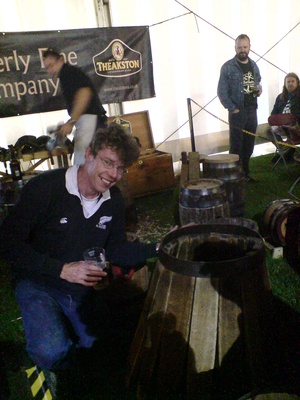 At Peterborough Beer Festival 2007, Tim stayed sober enough to complete the tricky task of building a wooden cask!
Mammon won the SIBA East Region Speciality Beer of the Year again in 2008, the second year running. It now goes on to the National Finals.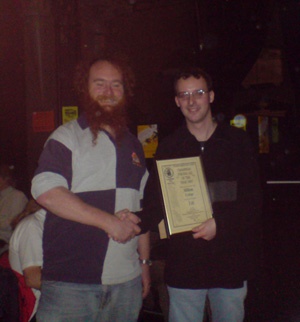 Cyclops won the CAMRA East Region Strong Ale of the Year 2007 and is now eligible for the CAMRA Champion Beer of Britain 2008.
Worts and All was our contribution to the Cambridge Beer Festival 2008. The festival had a Cromwellian theme this year hence our play on words. Worts and All proved immensely popular and won Champion Strong Beer of the Festival.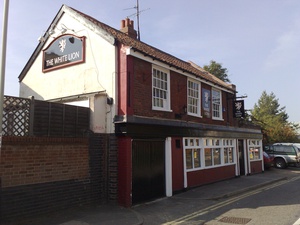 In September 2008 we opened the White Lion in Norwich. Prior to this the pub had been closed for three years. This is our first venture in Norwich!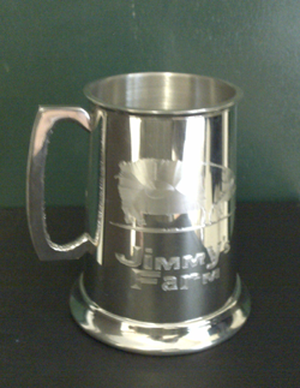 In September 2009, Milton Brewery was judged Beer Producer of the Year 2009 by those telly friendly chaps at Jimmy's Farm. We even got a lovely tankard as a prize.
In September 2009 Othello was beer of the festival at the Booze on the Ouse in St Ives.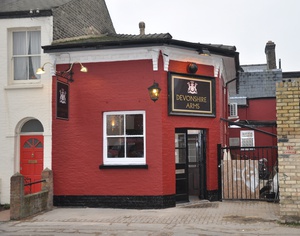 January 2010 saw the opening of The Devonshire Arms, off Mill Road, Cambridge. It is our first Cambridge pub and proved an instant hit.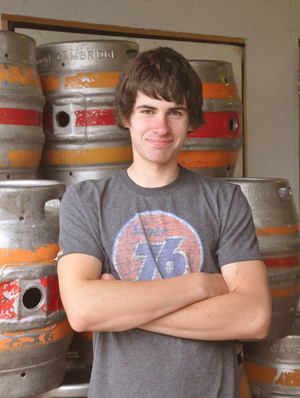 Harry Law joined the brewery in May 2011. Young, keen and fit, he was completely out of place but we're confident he'll grow out of it!
Great news from Oz. Will Tatchell's Van Dieman Brewing setup goes from strength to strength with a regular series of awards and accolades to his name. One of these days we'll get together for a pint or ten...
The Devonshire Arms won Cambridge & District CAMRA's Pub of the Year award for 2012.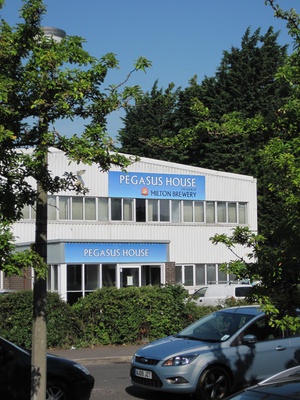 In March 2012 we bought the freehold of a property in Waterbeach. Renamed Pegasus House, it has become the new home of Milton Brewery. The building is around ten times bigger than our old premises and access is much better.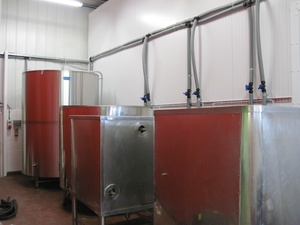 We've added a new, large, fermenter which when combined with our other changes will give us approximately 100% more capacity than before. The majority of the kit used in the old brewery has come with us to Waterbeach, with a few tweaks here and there.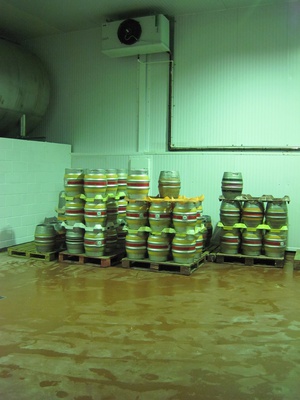 All this extra capacity meant that we needed a much bigger cold room. The new cool room is a whopper (and yet we're worried it isn't going to be big enough!). If that ever happens we've got around half an acre of land at the back of the new brewery, which should see us comfortably set for a while yet.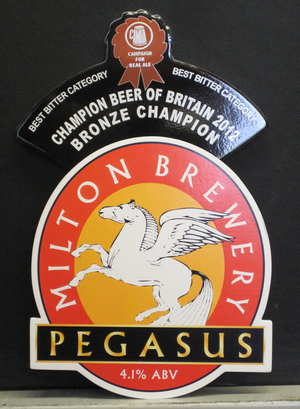 On 7th August 2012, Pegasus was awarded Bronze medal Champion Beer of Britain (Best Bitter Category). This national award is one of the most prestigious and we were especially pleased to receive it for one of the first beers brewed in the Waterbeach premises.
Proving this was no fluky win, Abeona won Silver medal at Peterborough Beer Festival only a fortnight later.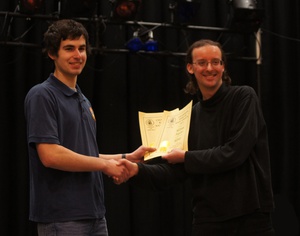 In late 2012 we were notified that Pegasus had won Champion Best Bitter of East Anglia 2012 and Nero Champion Stout of East Anglia 2012. Furthermore Nero was crowned overall Champion Beer of East Anglia, with Pegasus as runner up. On a cold night in February Harry and friends made the trek to Luton Beer festival to collect the award.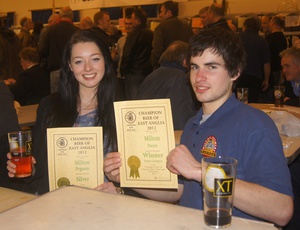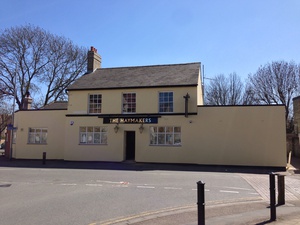 In April 2013, the Haymakers, Chesterton reopened to great acclaim. This is our second Cambridge pub and another that had been closed for some time before we bought and refurbished it.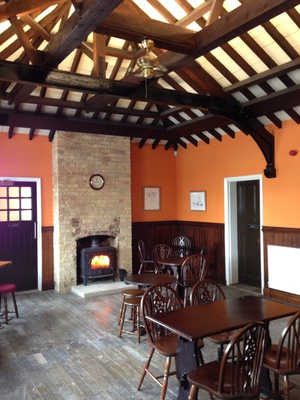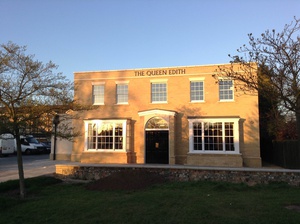 In April 2015, the Queen Edith opened. This is the first new build pub in Cambridge for over 30 years and brings our Cambridge pubs to three. Amusingly, they can all be visited on the Citi-2 bus route. Which then terminates at Addenbrookes Hospital.
Further updates on the goings-on at Milton are available on our news pages.