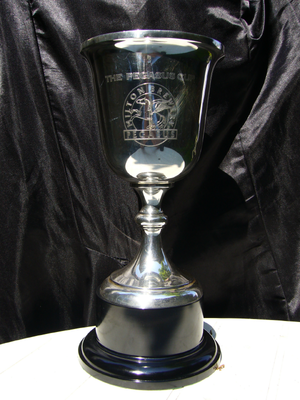 The Pegasus Cup is awarded annually to the most successful college boat club competing in the Cambridge May Bumping Races. The points system is as follows.
To get a score for each club, calculate the total number of places gained or lost so far by all the boats of that club, multiply these by 12, and divide by the number of boats. A night rowing over as head crew in the 1st division is counted as a gain of one place. In the event of a tie, the club with more boats wins, else the tie stands.
To be eligible a club must have at least one men's and one women's boat (except in the case of single sex colleges where two boats of the same sex may be permitted).
The Pegasus Cup in 2020 was a little different from normal. We normally award the Pegasus Cup to the most successful boat club in the May bumping races. This year, owing to Covid19, they were cancelled. Also cancelled are the Town Bumps, the equivalent races in July for local (non-university) rowers. The Town Bumps feature the 'Beer Tree' — which provides beer for crews and spectators — and raises money for charity, usually the Milton Children's Hospice.
This charity is suffering severe financial pressures as a result of Covid19. They need our help.
So this year, we used the Pegasus Cup to raise money for the Milton Children's Hospice. The Cup will be awarded to the Boat Club which raises the most money per college member (to make it fair!)
The winner was St John's College (Lady Margaret Boat Club). A total of £3599.35 was raised for the Milton Children's Hospice.